Purnells Pick Up Two Wins At The ACQ Global Awards 2018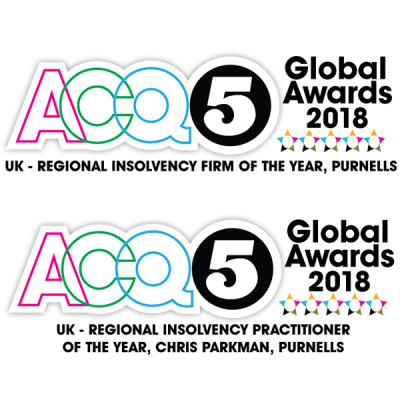 In January 2019, Purnells Insolvency Practitioners were informed that we had won two ACQ Awards; Regional Insolvency Firm of the Year and Chris Parkman, the Managing Director of Purnells, won Regional Insolvency Practitioner of the Year.
ACQ GLOBAL AWARDS boast a legitimately independent nomination process, and most importantly, their award winners, are chosen by the industry itself.  They rely on reader insight and experience to provide nominations.  Every year, they seek assistance in recognising industry leaders, eminent individuals, exemplary teams and distinguished businesses, which they believe represent the benchmark of achievement and best practice in a variety of fields – and every year, their readers help as they strive to recognise an ever-widening spectrum of services, markets, industries and organisations that serve their global market place.
Purnells were delighted to be told that we had won two categories, particularly so as we did not know we had even been nominated.  Accordingly we would like to take this opportunity to thank all of our voters, supporters and of course the Judges for the awards received, we are very proud to have not only been nominated but also to win this awards.